Choosing a Domain Name For Your Website
by Frederika Angus
I have been on the internet for the past 16 years. My parents were forward thinking enough to send me to computer camps at College campuses since I was 14 years old. They allowed me to grow and discover the most cutting edge technologies at their expense throughout high school. Their support led me into obtaining a degree in Computer Science in college.
Once there, I had opportunities to create and design school organization websites and eventually company sites as a Freshman in college. The internet has truly changed since then. Do you rememeber when the web search engine of choice was Yahoo!? Now we don't even tell each other to look on a search engine for information. It is more common to say "Go google it."
The constant, however, is the importance of your website domain name or URL. Just like the mail carrier needs a house number and street name to bring you the mail intended for you, your ideal customers need the address to find your place online. Your online branding begins with your web address.
This is one of the more common questions that come up with my clients that are just getting started. Especially those that are bringing an offline business online.
I recommend you KISS.
No. I am not being fresh! It is important that you Keep It SHORT and SIMPLE.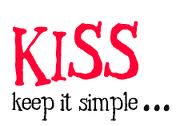 Easy to say. Easy to type. Easy to spell.
If the person looking for you can't spell your URL, they may try a couple variations and then give up. I've done that more times than I can count! While you know what you have to offer is valuable, your ideal client has found someone else.
Sometimes your web address will be different from your company name. When it came time to fill in the name on my incorporation paper for this company, it took me weeks to land on something I liked. Since I don't have a brick and mortar setup, not using Angus Choice Corporation as a primary URL wasn't a huge deal for me. My company name means a great deal to myself and my family. It's appropriate for our offline divisions. I realize that anyone else hearing Angus Choice will probably think I coach on strategies for beef processing and cattle herding. I named this site with the goal I have for each of my clients. I desire that every entrepreneur would not just dream but move to the next level in the big vision that they have.
Do not get stuck on a name before you search to see if it is available! Go to a domain registrar like a GoDaddy or Domain.com and search for your intended domain name. Often times if your exact name is taken they will offer you alternatives. Use the suggestions to keep your creativity flowing until you find the right one for you.
Be cautious of words that are commonly misspelled. Or words that sound the same but have a few different spellings. For instance, rain and reign. Intentionally misspelling words or making up words *could* work and pay off big (think flickr vs flicker), or it could backfire.
Be brief. Domain names can be as long as 67 characters. Don't make it a personal challenge to have to be thatguy with a URL that looks like some hashtags on Twitter. Using www.thiswasagoodideabeforeirealizeditwontfitonabusinesscard.com will just leave more room for spelling errors.
Speaking of .com, it is the standard and is a best practice. Having a .net isn't bad nor is using a suffix specific to your country. If you have a non-profit organization, having a .org site is appropriate. Otherwise, I'd encourage you to leave the other options for someone else regardless of the rock bottom price of $1.99/ year.
This should get those juices flowing to finding the perfect domain name!
Share a comment below with your thoughts. If you are looking for more support in building the business of your dreams and living the life you envisioned, be sure to join me on Facebook now and follow me on Twitter.
Talk to you soon!