You Must Remain Focused On Your Journey to Greatness
by Frederika Angus
As one with a spirit of an entrepreneur, great ideas and creativity flow from you easily. In any given day, you can think of 3 new product ideas, 2 service offerings, and business expansion opportunity. Being able think of and become the solution for your ideal clients' problems is a gift!
But you're feeling overwhelmed and all of the ideas swirling in your head do not at all feel like a gift. It's more like a hinderance to getting anything done.
Never fear. It isn't your ability to create, follow-through or mental capacity that is the problem. It's your focus!
I am a recovering super multi-tasker. I use to believe if I could just get as many things started as possible, I'd be more efficient, and by the end I would have accomplished more. My faulty way of thinking, left me with half done documents, emails, organization projects and even laundry! My inability to focus left me more overwhelmed and stressed at the end of the day. I couldn't clearly see what I had accomplished when it came to check things off the to-do list. I had started 5 things and finished none!
Living life fully depends upon our ability to observe carefully, give attention where it's needed, and concentrate on ONE task at a time.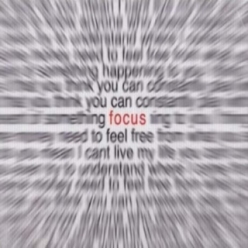 Here are some strategies I find helpful to upgrade your ability to focus.
1. Procrastinate first – Give yourself 5-10 minutes of distraction before you begin a task. Our minds like to wander. Set a timer and check your social media accounts, text a friend, doodle in a notebook. When you clear your mind first, it becomes easier to focus later.
2. Live by a to-do list – Every time you think of something new you need to read, research, or invent, WRITE IT DOWN instead of switching gears from your current focus. Make a list every day of what you must complete by the end of the day. All the new to-dos that are not urgent can wait.
3. Take care of your mind and body – Burning the candle at both ends does not help you get more done. Sufficient sleep can positively impact your attitude toward the tasks that you have to complete. In addition to that, your brain needs time to reboot and recharge. It will help your memory and your ability to concentrate. Exercise and a well-balanced diet also increase healthy brain activity and your focus.
4. Remove the distractions –  When you have something important or difficult that must be completed, close down the email, turn off the cell phone, shut off the social media notifications or instant messaging tool, put a sign on the door and get to work. I have a system where I check my email only 2-3 times a day in order to increase my productivity.
Implementing even just one of these strategies can improve your ability to get more done and feel less overwhelmed.
Talk to you soon!