Typically our weekends are a whirlwind of excitement. We usually have sporting events or activities for the boys that keep us on the move from place to place. This past Saturday was no different. As we were talking and driving up the highway to watch our oldest participate in a scrimmage with his football team, my husband interrupted me pointed out to me that it isn't even fall and the leaves were changing.
I didn't think much about it until later that afternoon as we were sitting in the bleachers cheering on our middle son at his first tackle football game. Leaf after leaf floated from the trees behind us. After being smacked in the face for the third time I exclaimed, "Why are the leaving changing so soon? It isn't time! I'm not ready!"
Have you ever felt that way?
You look around and it seems everything around you is changing and you are just not ready. There is no way you can stop the changes from happening. And if you just had a little more time beforehand, even a little advance notice, you would have been more prepared.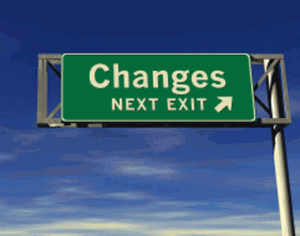 Welcome to life! It comes at you fast and some days you aren't prepared for all the change in front of you. You pick up the remote and press pause yet nothing stops or even slows down.
We've all been there. I'm here to tell you that whether you've had that feeling a day, a week, a month, THERE IS HOPE.
I want to encourage you today to change your perspective on the "Life comes at you fast" moments. As much as they signify the ending to one chapter they are equally the beginning the next. Here are a few quotes to remind you of the positive side of change.
Change brings opportunity.
Nido Qubein
Change in all things is sweet.
Aristotle
God grant me the serenity to accept the things I cannot change, the courage to change the things I can, and the wisdom to know the difference.
Reinhold Niebuhr
If we don't change, we don't grow. If we don't grow, we aren't really living.
Gail Sheehy
If you don't like something, change it. If you can't change it, change your attitude.
Maya Angelou
Life belongs to the living, and he who lives must be prepared for changes.
Johann Wolfgang von Goethe
The only way to make sense out of change is to plunge into it, move with it, and join the dance.
Alan Watts
Do you have a favorite quote on change? Share it below now. I'd love to hear it.
If you are looking for more support in building the business of your dreams and living the life you envisioned, be sure to join me on Facebook now and follow me on Twitter.