A Primetime Strategy from Football Hall of Famer Deion Sanders
by Frederika Angus
Are you ready for some football?
I personally cannot wait until the season gets underway! I have enjoyed watching football as a young girl and even moreso as the mother to 3 players. Although I've never played it, watching my little ones practice, study and play the game over the years has helped me see it as more than just a game. There are life lessons behind every pass, penalty, tackle and touchdown.
Last night after coming home from watching our local NFL team practice, we settled in and watched the football Hall of Fame inductees stand before all the world and pour out their heart, share their gratitude to those who believed in them during the journey and accept the most prestigious football honor available.
Each man stood before family, friends, coaches and colleagues and told their story as they transitioned from having success in their chosen career with the NFL to being significant for the generations to come. Every man was moving and there were times were I could feel the rawness of their emotions leap from the screen. And yes, I cried in joy along with them.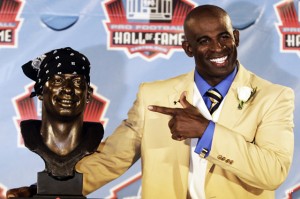 One recipient in particular stood out for me from the rest. Maybe it's simply because he played for the San Francisco 49ers, my number 1 favorite football team, but Deion Sanders' words ignited me. As he talked of his football persona, Primetime, he shared that prime was really an acronym that pushed him into his great success in league. (His stood for promise, responsibility, intellect, manage and expect.)
As business owners, sometimes we feel isolated and alone as we put our heart, talents and finances into our dreams. It easy some days to focus so much on delievering a great product or service that other details become neglected. Today I want to encourage you whether you are just starting out or you've been in business for years with PRIME strategies to push you into great business success.
Prepare and plan – When you fail to plan, you plan to fail. Your ability to move forward in an effective manner is dependent on knowing you have exactly what you need and the directions to take you there. When going on vacation you don't show up to the airport without preparing a bag or having a plane ticket. Treat your business the very same. Having business, marketing and financial plans are a must.
Revisit and revise – If you already have a plan, revisit and review it regularly. I make it a priority to read my own once a quarter at minimum to ensure I am staying true to my mission and operating according to plan. When necessary, at least once a year, I revise the plan to account for what I've learned from training and trial and error.
I nvestigate and innovate – Most small businesses don't have a research and development division. Along with the many hats you'll wear as an entrepreneur, this one is important. Investigating and analyzing market trends as well as what your customers want will give you insight into how and where to grow your business. Thinking out side of the box and being willing to innovate will also put you ahead of your competition.
Manage and motivate – As a leader, you are called to manage people, your brand and your time. This isn't to be taken lightly. People are constantly watching you and your actions and how you represent yourself. Be able to motivate yourself and inspire others. It will take you further than you can imagine.
Execute, expect greatness, eliminate excuses – All the planning and talking in the world means nothing if you there is no action. As I'm leading different projects for clients, I like to remind the teams to plan the work then WORK the plan. When working through that plan, expect that it will work out even better than you expected. Above all, eliminate the excuses. You can and will succeed!