Tomorrow Is Not a Guarantee, So What Are You Waiting On?
by Frederika Angus
As a coach and advisor to many people in business, I tend to hear many excuses. Some of my "favorites" include, "I'll get to it soon," or "I do not have enough hours in the day to get it done." Or maybe you've used this one, "I'll do it tomorrow."
I believe that when they are said, people have the best intentions. They really do believe that they will do it soon, or next week. But then this funny thing called life happens. What you intended to complete in January is still left undone nearly a year later. Besides the holidays are almost here again, why take down the Christmas tree now?
There are others, though, who have made putting off what they can do today until tomorrow a life and time management strategy. Many have become quite skilled in the fine art of procrastination. Are you one of them?
Have you been telling yourself that you will look up the process for obtaining a business license, tomorrow?
Maybe you said once you had more time you would be ready to start that new business?
Perhaps you just focus your time on activities(Facebook anyone?) that don't move you any further into you living the life you have dreamed of living.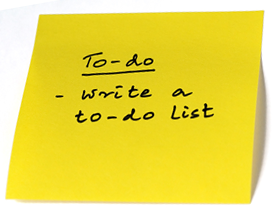 Sometimes we are more willing to give ourselves a way out of doing what we need to do than we are to hold ourselves accountable to the dreams inside of us. Before you know it, the big idea, the great opportunity, that makes are hearts leap everytime we think of it, begins to get smaller and smaller and smaller the more we put it off. Now comes the voice that tells you that it wasn't that big of a deal and it is better off that you didn't do it anyway.
I learned that one of my dear friends suddenly passed away in her sleep. She leaves behind three young children who will now have to navigate this world without the love and care that mothers provide.
While my heart is heavy with this loss, I have an obligation to tell you, tomorrow is not promised to any of us. The things that you have been procrastinating about doing may never be achieved because of your delay. You can not expect to successfully start or grow your business living with a mindset believing that it is ok to wait.
It is time to make a decision about your life and your business and immediately take action!
The great part about being alive is in the living. You still have time TODAY to start right where you are.
If your biggest pain point to entrepreneurship and being a business owner is "how do I find the time to do all the is required," I am creating your solution.
On Monday, November 21st at 7:00 pm ET and 4:00 PST I am hosting a no-cost, no obligation Tele-class for an hour. I will be sharing the 5 keys on time management fundamentals for business owners. I am serious about your goals and your life. This may be the catalyst you need to push you into the greatest success of your life.
REGISTER NOW. It's absolutely free!
It's time to take your vision to the next level!
Talk to you soon.