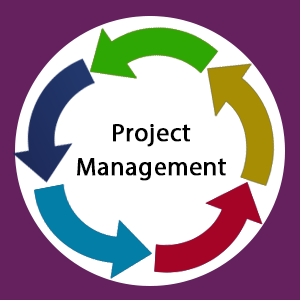 Our Virtual Project Management Services will provide you with organizational and project management expertise focused on completing critical business projects that you don't have time to manage yourself.
Why your business needs a Virtual Project Manager
So that your business can stop leaving money on the table with undone work
Grow your business faster because you'll have more time to work on your business while someone else takes care of the details.
Improve the efficiency of the staff you manage by tracking relevant metrics, providing constructive feedback, and reporting the statuses of all ongoing projects to management.
Accelerate growth and your time to market
Eliminate unnecessary spend from freelancers and independent contractors that overestimate and under deliver.
Develop a cohesive results-oriented solution instead of  piecing together the parts of your online business
To manage one time projects or ongoing operations and marketing efforts
What a Virtual Project Manager does for you
Turns your vision into visible implemented results
Creates and adjusts established processes for your business
Manages timelines, develops project plans, manages resources and maintains structure
Solves problems by anticipating and planing for risk, sets milestones, raises the red flag when needed and develops contingencies
Communicates verbally and written on scope and responsibilities to team and stakeholders/main point of contact
Sees the big picture and understands budget risk and quality trade-off
A project manager gets things done and makes things happen
How your business benefits Project Management Service
Clear, concise communication and status updates
Connected, cohesive management that eliminates confusion for your team of professionals
Complete products launched – sales pages, graphics, landing pages, autoresponder setup, social media posts, keyword research
Websites branded and created or updated faster without having to understand the technical mumbo jumbo
Full social media and brand campaigns created, managed and executed
Business organization – systems of process, organization charts, policies and procedures
A team member that executes your business projects to bring your vision to life
More time for you to work on your business instead of working in every detail of your business
Testimonials
"Frederika has exceeded my expectations. Her attention to detail and commitment to get the job done has been outstanding. I couldn't be happier to have Frederika on my team"
~ VP, Consumer & Small Business Banking Division, Bank of America
"It has been a pleasure working with Frederika. She has contributed significantly to the team and is willing to do whatever it takes to get the job done."
~ VP, Training and Associate Readiness, Bank of America
"You helped ensure that WCM (Web Channel Management) came out of this conversion with flawless – and I mean flawless, execution. Thank you for your hard work and dedication."
~ VP, Web Channel Management, Wells Fargo
"Thank you for all your hard work. You are a terrific leader and know how to navigate the challenges thrown your way. All of your planning and teamwork led to a very success implementation. Congratulations.
~Senior VP, Web Channel Management, Wells Fargo
Frequently asked questions on Project Management Services
What can you help me with?
Projects are initiated to bring about a change/desired result. So any area of your business where you need to bring about a change or desired results is right up our alley. Our team provides the planning, oversight, communication and reporting structures to bring your project to completion on time and on budget at a significant savings over full-time on-site project management consultants.
What is project management?
"The art of directing and coordinating human and material resources throughout the life of a Project by using modern management techniques to achieve predetermined Objectives of Scope, Cost, Time, Quality and participant satisfaction." ~from the Project Management Institute
Do you use the Agile or Waterfall methodology?
I have been trained in and used both Agile and Waterfall project management methodologies. Because of my deep knowledge in both, I've created a proprietary methodology that simplifies the process for organizations that do not require the additional rigor and documentation. [Learn more about our project management methodology]
What is your payment structure?
All clients are billed based on a monthly retainer. 30, 60 and 90 day retainers are currently available. Please contact us to discuss your specific project management needs.
Are you available to work on-site at my business location?
One of the key benefits to hiring a virtual project professional is to reduce overhead and costs while still completing your necessary projects. We help pass on these cost saving benefits to you by working remotely. We can certainly come on-site to your business to meet with you and your team at limited increments of time. If your monthly retainer does not include an one day on-site visit stipend, it can be added at an additional cost.
Our Virtual Project Management services must be discussed in advance. Please contact us to discuss how we can serve you, find out availability, and current rates.