Going from Angst to Action And Why You Must Develop Habits NOW That Will Allievate Your Anxiousness
by Frederika Angus
The phone is ringing, three new emails have come in, there is a pile of mail that you have yet to go through, it's already 6PM and you haven't even gone to the grocery store to begin preparing dinner. The list of things that must be done never gets shorter and somehow the time you have to accomplish everything never gets any longer. You find yourself behind the eight ball again with deadlines looming over you and the desire to just go to bed or veg out on the couch and watch movies as if that will make all the work go away.
Frantically you look around and ask, "Where is the easy button that makes getting things done simple on TV?"
Then you think to yourself, perhaps if you had a different day planner system, or used your email calendar to schedule everything, this wouldn't keep happening. Maybe if you read another book on effective time management.
You don't need another book on how to stop procrastinating. You need to change your mind about the tasks you must complete. Somewhere along the way you have picked up the habits of everyone else. While waiting to the last minute may not be so bad for them, you are a business owner. Those habits have created an anxious atmosphere in your life and in your business. You are losing sleep, customers, and credibility in the marketplace because of it.
"The successful person is the average person with laser-like focus." ~Bruce Lee
It is easy to be overwhelmed from managing a business, especially from home, and household activities IF you have not developed the habits of a focused successful business owner.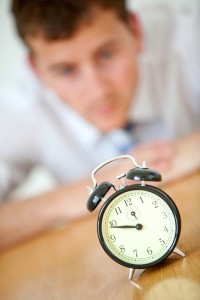 Many people allow a lot of time to pass without taking any useful steps because they cannot imagine what to do next. When looking at the vision for your business, there are always many smaller pieces that have to be put in place to bring it all together. Unfortunately, because you are overwhelmed the mere thought of doing the smaller tasks, it keeps you from doing anything.
All business owners are busy. The ones that breakthrough and become very successful are those who are committed to being focused and understand the value of their time. You see time management is not about HOW you manage time. There are any number of tools, both paper and electronic that can help you keep a schedule of things to do. Time management is about how you manage yourself so that you use your time more effectively.
I have had the honor to led millions of dollars in project initiatives for companies. During this time I've learned that the key difference between the best program and project managers was their ability to manage their time and manage the time of those on their team. They are skilled at not only knowing what to do, but when to do it and who should do it. By understanding time management, their projects always came in on time and usually under budget leaving all the business partners happy and excited to move them to the next bundle of work.
The techniques are the same for entrepreneurs. Getting in the habit of knowing what to do, when it should be done and who the best person is to complete the task will yield great results for your business. Doing so will alleviate your anxiousness every time a task comes through your inbox or client needs you. You will be able to rest easy at night knowing that you are equipped with habits that will lead to your success. Being successful is after all why you went into business!
For all those who are overwhelmed with too many things to do, too little time to do them, and a general sense of unease that something important is being missed, I am offering a FREE class on keys to move you further in your business with time management.
It's time to get serious. Register here NOW!
Talk to you soon