Understanding Push and Pull Marketing Online for Brand Profitability
by Frederika Angus

Imagine your business as an open house. Your visual branding will cause your ideal customers to look and perhaps even stop out front. While branding causes people to look, the biggest question for business profitability is how do you get people in the door?
When it comes to marketing, in particular, digital marketing, two forms exist. Pull and push. Understanding the concept of push and pull marketing will help as you develop strategies to expand your brand's products and services online.
Push Marketing
Push marketing is where the company is pushing messaging to create excitement or interest. The customer hasn't asked about or for your services and products. In traditional advertising this is done in the form of commercials, and magazines or radio ads. Online, methods such as banner advertising, Pay-Per-Click ads and email marketing are used. This method allows your target market to know you exist and provide a solution they might need.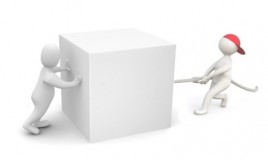 Pull marketing
Pull creates awareness and when done well, a demand. Pull marketing is about positioning your brand so that as your prospective customers are seeking information, you are who they find. Its intent is to attract ideal customers and is usually done more organically. Customers who are gathering information in your area of expertise are less likely to have their guard up as they would in an unsolicited sales pitch. Websites with blogs along with SEO (search engine optimization) and even your social media presence, allows customers to find you, develop relationship that can grow into profits for your business.
Both push and pull marketing help expand and elevate your brand and business online. The two types are not mutually exclusive, meaning; it's not a decision to select either push or pull. Both push and pull marketing strategies should work together. Often times without the promotion of push, websites and blogs would never get off the ground.
Push and pull marketing works best in tandem to grow profits for your brand. It is important to find the balance of pushing on certain avenues such as email marketing and using social media. Especially because both are great ways to develop relationships that will result in long-term brand loyalty. Know where your prospective customers are looking for your products and services and position yourself to be the one they find.
Talk to you soon!